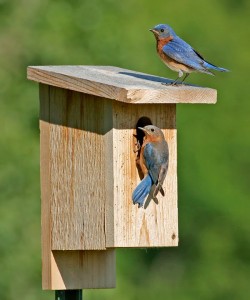 It's that time again. The snow is gone—we hope, the birds are chirping, and we have a little spring-cleaning to do, but not before we make a plan.
The Clarence Bluebird Trail will be having their spring meeting of 2016 on Saturday, April 23 at 1:00 pm, at the Clarence Public Library, located at 3 Town Place, Clarence, NY 14031. Please stop by if you are in the area and would like to find out more about our organization, or become a volunteer.
We will be reviewing past years' progress, learning facts about the Eastern Bluebird, and planning for a busy season of monitoring. Remember, it's for the birds.